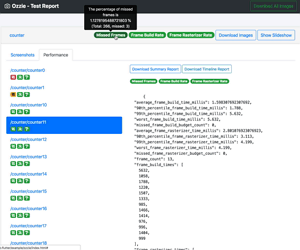 ozzie.flutter
Ozzie is your testing friend. Ozzie will take an screenshot during integration tests whenever you need. Ozzie will capture performance reports for you.
How it works
Add ozzie to your pubspec.yaml as a dev_dependency:
dev_dependencies:
  ozzie: <latest_version_here>
In your Flutter integration tests, create an instance of Ozzie, pass the FlutterDriver, give it a groupName and ask it to takeScreenshot. That simple! And whenever you have finished with tests, you can create an HTML report by asking Ozzie to generateHtmlReport.
If you want to measure the performance of your app, simple wrap your integration tests in profilePerformance and it will be added to the HTML report.
Here's an example:
import 'package:flutter_driver/flutter_driver.dart';
import 'package:test/test.dart';
import 'package:ozzie/ozzie.dart';

void main() {
  FlutterDriver driver;
  Ozzie ozzie;

  setUpAll(() async {
    driver = await FlutterDriver.connect();
    ozzie = Ozzie.initWith(driver, groupName: 'counter');
  });

  tearDownAll(() async {
    if (driver != null) driver.close();
    ozzie.generateHtmlReport();
  });

  test('initial counter is 0', () async {
    await ozzie.profilePerformance('counter0', () async {
      await driver.waitFor(find.text('0'));
      await ozzie.takeScreenshot('initial_counter_is_0');
    });
  });

  test('initial counter is 0', () async {
    await ozzie.profilePerformance('counter1', () async {
      await driver.tap(find.byType('FloatingActionButton'));
      await driver.waitFor(find.text('1'));
      await ozzie.takeScreenshot('counter_is_1');
    });
  });
}
After this, a report will be generated inside your project as ozzie/index.html:
Using ozzie.yaml to control performance thresholds
You can declare, at the root of your project, an ozzie.yaml file to control the different thresholds of your performance tests. If this file is not declared, Ozzie will use internal default values:
ozzie.yaml:
integration_test_expectations:
  should_fail_build_on_warning: true
  should_fail_build_on_error: true
performance_metrics:
  missed_frames_threshold:
    warning_percentage: 5.0
    error_percentage: 10.0
  frame_build_rate_threshold:
    warning_time_in_millis: 14.0
    error_time_in_millis: 16.0
  frame_rasterizer_rate_threshold:
    warning_time_in_millis: 14.0
    error_time_in_millis: 16.0
Optional screenshots
Taking screenshots can take a while, and sometimes you might want to run your integration tests without taking screenshots. If that's the case, you can set shouldTakeScreenshots to false and skip that part, saving you some precious time:
setUpAll(() async {
  driver = await FlutterDriver.connect();
  ozzie = Ozzie.initWith(
    driver,
    groupName: 'counter',
    shouldTakeScreenshots: false,
  );
});
Maintainers
Project Lead(s):
Main Maintainer(s):
Source Code
Please Visit Flutter Capture Performance Reports Source Code at GitHub