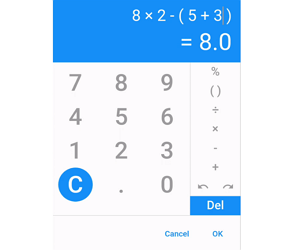 Flutter Calculator Widget
A simple, smart and powerful Flutter calculator widget.
Features
Basic arithmetic: plus, minus, multiply, divide, %, brackets.
Real-Time calculating.
Prevent to input the invalid symbol.
Auto-resize the formula or result font size to adapt the text box's boundary.
Supports undo and redo.
Supports to relocate and input symbols.
Can be used as an embedded widget or a dialog.
[WIP] Supports to specify the result's precision.
[WIP] Supports to copy and past the formula and the results.
Demo
Getting Started
Add dependency to your pubspec.yaml:
dependencies:
  flutter_calculator:
    git:
      url: git://github.com/flytreeleft/flutter_calculator.git
      # Use the developing version
      ref: master
      # or use the release version
      #ref: v0.1.0
Import package import 'package:flutter_calculator/flutter_calculator.dart'; and call await showCalculator(context: context); in your code:
import 'package:flutter/material.dart';

import 'package:flutter_calculator/flutter_calculator.dart';

void main() => runApp(FlutterCalculatorExample());

class FlutterCalculatorExample extends StatelessWidget {
  @override
  Widget build(BuildContext context) {
    return MaterialApp(
      // ...
      home: const HomePage(title: 'Flutter Calculator Example'),
    );
  }
}

class HomePage extends StatefulWidget {
  @override
  _HomePageState createState() => _HomePageState();
}

class _HomePageState extends State<HomePage> {
  final TextEditingController _textController = TextEditingController(text: '0.00');

  @override
  void dispose() {
    this._textController.dispose();
    super.dispose();
  }

  @override
  Widget build(BuildContext context) {
    return Scaffold(
      // ...
      body: TextField(
        showCursor: false,
        readOnly: true,
        controller: this._textController,
        onTap: () => this._showCalculatorDialog(context),
      ),
    );
  }

  void _showCalculatorDialog(BuildContext context) async {
    final result = await showCalculator(context: this.context) ?? 0.00;

    this._textController.value = this._textController.value.copyWith(
          text: result.toStringAsFixed(2),
        );
  }
}
License
Thanks
Reference
Source Code
Please Visit Flutter Calculator Widget Source Code at GitHub